Boozang UI Automation Tool
Lately, it seems I've been discovering a new test automation framework every week. The latest is called Boozang. It's ...
The 4 pillars of good IoT user experience
Creating excellent UX in the IoT world can be a challenging job. It's difficult to be able to cater to users' needs in a...
Breathe Life into Your Automation Testing with Oxygen
Are you feeling like your testing efforts are sucking the life out of you? Perhaps the Oxygen framework can help. But w...
Cypress.io Top Automation Questions (Hot Seat)
Gleb Bahmutov, VP of Engineering at Cypress.io, recently joined the Automation Guild to answer the community's common qu...
OpenTest Automation Framework Preview
I recently spoke with Adrian Theodorescu, and he told me about an open-source framework that I had never heard of before...
Automation Tools for Mainframe Testing
Let me guess. You're thinking, "Mainframe testing? Really?" Believe it or not, mainframes are still the systems of cho...
Akshit Dwivedi, Associate Solution Architect
From graduating college to managing over twenty people, Akshit's career has progressed in record time. He works across t...
Poorvika Mahesh, Test Automation Lead
Poorvika thrives on new challenges and is relentlessly developing her skills as an expert lead tester. It's not just Qua...
Kevin Smith, Director of Quality Assurance
With over 25 years' experience, Kevin Smith began his career in professional services, doing pre-sales consulting work a...
Bucharest is Booming
Why Qualitest is Expanding in the "Largest city of Romania" "Bucharest has major strategic advantages beyond lower costs...
From weightlifting, to building strong teams
He won weightlifting competitions, founded a technological start-up company, was one of the founders of the first escape...
Round Earth Test Strategy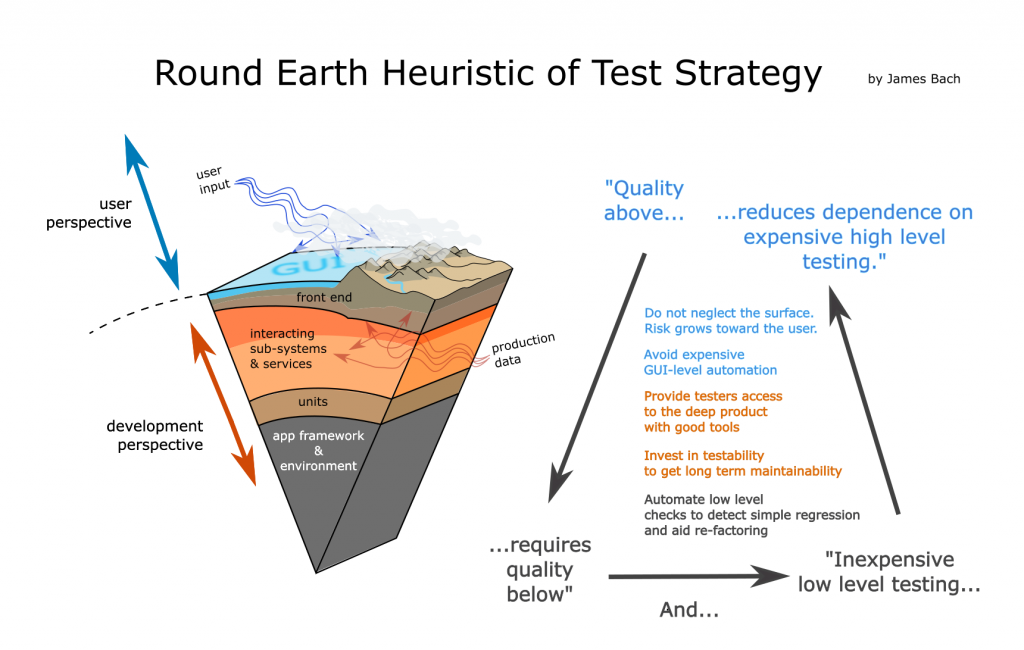 The "test automation pyramid" (for examples, see here, here, and here) is a popular idea, but I see serious problems wit...
Public Class in the Seattle Area
This is to announce I will be teaching my Rapid Software Testing Explored class in downtown Bellevue, WA, on August 6-8....
How We Moved from Heroku to Google Kubernetes Engine
In my last post I laid out our reasoning for moving from Heroku to Google Kubernetes Engine (GKE) and other GCP services...
Deep Dive into Rainforest Test Designer
We've made a lot of changes to Test Designer over the past few months and it's become the powerhouse of test creation fo...
Balancing Technical Acumen and User Advocacy
Conference season is upon us, and we are hitting the ground running! We couldn't be more excited to be in Orlando, FL fo...
3 Key Pillars of Building a Culture of Quality
Building a high-quality product takes teamwork. Maintaining a best-in-class product while continually developing high-qu...
The Pulse of QA: The 3 Key Areas Highly Confident QA Teams Focus On
In our recent poll on the health of the QA industry, we found that over half of all QA teams surveyed are not very confi...
The Pulse of QA: How Healthy are QA Organizations in 2019?
Product quality is more important to the success of businesses than ever before. In a software market flooded with an ev...
Why We Moved from Heroku to Google Kubernetes Engine
Until late last year, Rainforest ran most of our production applications on Heroku. Heroku was a terrific platform for R...
Introducing an Improved Test Results Experience
You may have noticed a few new (and colorful!) elements in your Rainforest run results lately. In this post, let's walk ...
How to Estimate a Project Timeline
One of the first steps in getting a new project underway is figuring out how much time and resources you'll need to allo...
February Features: Improving QA Metrics & Visibility with Rainforest
Getting the insights you need quickly is essential to understanding and improving your QA process. With that in mind, we...